Chants D'Auvergne: A Singer's Guide to Auvergnat Pronunciation
Available for purchase.
Co-authors Brodovitch and McCann offer a complete reference for the performance of the Chants d'Auvergne, Canteloube's collection of twenty-nine orchestrated folk songs sung in the Auvergnat dialect. Phonetic transcriptions of each song with English word-for-word and idiomatic translations, revised line-by-line French translations (originally edited by Canteloube for the musical layout),  Pronunciation, Text, and Musical notes.
 Chart of Sounds provides a convenient reference to Auvergnat sounds and their spellings. Special Features presents an in-depth discussion of Auvergnat pronunciation.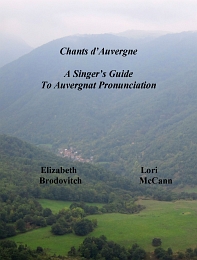 Appendices include Songs By Category with information on song themes, keys, and tempos as an aid to recital planning, English-French Glossary of the songs' Auvergnat vocabulary and English translation of Canteloube's pronunciation notes.

Version française de ce résumé
©2021 Elizabeth Brodovitch and Lori McCann
All Rights Reserved
181 Pages
For sample text, click on the cover image
Click for Purchase options
Contact:
Elizabeth Brodovitch Lori McCann